What our students think about the program
Aysecan Ünal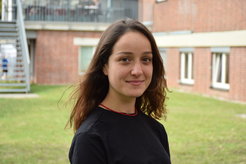 "The interdisciplinary courses of Matter to Life Master's program taught by the pioneers of their respective fields open new perspectives for students in their research journey. I built a unique understanding in the field of Matter to Life during the Master's phase which now guides me through a successful PhD. The direct track program of Matter to Life also ensured a smooth transition between the Master's and the PhD. Thanks to the different practical experiences in my various areas of interest during lab rotations and thesis project during the Master's phase, I discovered my passion in science and gained special skills which then led to my PhD project. I am working and collaborating with exceptional scientists in a creative and supportive scientific environment every day."
Nitin Bohra
"During my undergraduate, I was amazed by the coordination of different metabolic and regulatory pathways. I wanted to understand how these well-coordinated systems give rise to what we call 'living systems'.
The Matter to Life program is the perfect choice for me where I could understand what life is from the perspective of Biology, Chemistry and Physics during the Master's phase and then continue in my area of interest in the PhD phase."
Jan-Niklas Haug
"After studying Chemistry, I wanted to expand my knowledge in new areas to work in the interdisciplinary field of the Life Sciences. The Matter to Life program in Heidelberg allows me to combine my interests in Chemistry with a variety of topics in Physics and Biology.
Working together with international students with different backgrounds offers me many perspectives on scientific subjects and because of the small group size I receive individual mentoring to achieve my scientific goals.
With many leading scientists throughout Germany, the course is strongly connected to current research in the field of Matter to Life and I get the chance to work on interdisciplinary research projects in many areas that I could otherwise not pursue.
After the Master phase I can directly transition into the PhD phase of the program and apply the theoretical and practical knowledge I gained beforehand. Because of this system, I will be well prepared for the PhD and can still benefit from the Matter to Life network."