YOUR MSC TO PHD DIRECT TRACK PROGRAM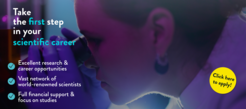 Do you have a Bachelor or a comparable degree in chemistry, physics, biology, biochemistry, biotechnology, material science or engineering?
Join the Max Planck School Matter to Life for an interdisciplinary program connecting chemistry, biology and physics to fundamentally understand life.
Obtain your Master by studying for two years at either Heidelberg University with a focus on Molecular Systems Chemistry and Engineering or the University of Göttingen with a focus on Complex Systems and Biological Physics. At either location, you will learn from the best and profit from our small cohort sizes. Become part of our network by joining MtL Symposia and other events. Several lab courses will further prepare you for your PhD phase and scientific career.
During the 3-years PhD phase, you can participate in groundbreaking research at the laboratory of any Matter to Life Faculty member.
There is no need to learn German for our program as it is conducted in English.