YOUR MSC TO PHD DIRECT TRACK - MATTER TO LIFE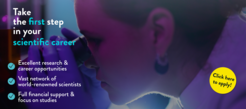 Are you an undergraduate student majoring in chemistry, biochemistry, physics, bioengineering, or related subjects and longing for furthering your studies in an interdisciplinary program, which combines these research fields?
Are you passionate about science and want to meet people around the world who have similar interests and work together to create scientific advancement and innovation?
Would you like to pursue an English-taught program, which is led by world-renowned scientists and put your brilliant ideas into practice in the top universities and research institutions in Germany?
Then the Max Planck School Matter to Life is your perfect choice!
JOIN OUR RENOWNED INTERDISCIPLINARY GRADUATE PROGRAM
About us
We are the Max Planck School Matter to Life (MPS MtL), an interdisciplinary program connecting chemistry, biology and physics to fundamentally understand life. We offer a 5-year direct track program to bring you from Master to PhD.
After digging deeper into the interdisciplinary science in your 2-year Master, you will have the direct chance to follow your research idea in your 3-year PhD phase. As MPS MtL is an interdisciplinary as well as international program, all our lectures, seminars, and events are conducted in English. Therefore, German language skills are not required.
REGISTER FOR AN INFO SESSION AND ASK YOUR QUESTIONS DIRECTLY TO OUR STUDENTS, FELLOWS AND COORDINATORS
Why Max Planck Schools Matter to Life?
Interdisciplinary and International
One of the highlights of our program is to lead you to get on board with interdisciplinary cutting-edge research. Most of our members are from different cultural and educational backgrounds. Working with people in a dynamic atmosphere will not only help you to stimulate new ideas, but also make your research journey successful.
Professional and Efficient
As part of the innovative network of German organizations for excellent graduate education, you will receive a wide range of courses related to your research field during your Master. And meanwhile, you will be trained in small cohort sizes, which enables you to have more regular contact with other researchers and to get additional feedback from your supervisor.
Frontier Research
Our labs are equipped with up-to-date standards, to which you have access at any time. In addition, we hold numerous symposia, scientific events, and international conferences around the year. This provides you with a great opportunity to get first-hand information and track the research trends.
Financial Support
Being enrolled in the MPS MtL program you will receive full funding during your Master as well as PhD studies so that you can freely choose your desired direction and focus entirely on your research project.
Excellent Locations
Our both Master locations, Heidelberg and Göttigen University have a long tradition of its excellent academic performance and have the most Nobel Prize winners in Germany. The traditional but also vivid cities will let you fully engage in your daily life and carry out your research project.
How to join us?
For more detailed information regarding the admission requirements, application procedure and deadline, please click here.
Qualification

Motivation letter
Transcript
English certificate (until the start of the program)
APS for candidates from China and Taiwan
Application
We are looking forward to your application!
To learn more about our program, please click here.
Any further questions?
Join our info sessions! This is your chance to meet us and ask coordinators, Fellows and students directly.
Or contact us at mattertolife@maxplanckschools.de