MtL Symposium at Castle Ringberg
A Celebration of Science
Do you know why it is important to consider time and kinetics in self-assembly processes or how magnetotactic bacteria can get stuck in dead ends? Those are just a few things we have learned 
from 
MtL members during our latest Symposium. Formally sending our Master's students off into the PhD phase, learning about everyone's fascinating latest research, discovering the area around lake Tegernsee both 
on 
foot and 
by 
boat as well as eating loads of great food – there are still so many impressions to process. But there is one thing we can already say for sure: We enjoyed this week together at Castle Ringberg
"It is so nice to get together in person again!"
We heard this a lot when welcoming our students and Fellows at our first MtL Symposium at Ringberg Castle at Lake Tegernsee. This was our first in-person meeting after two and a half years of "everything virtual". Nevertheless, strict regulations and measures were in place to keep the event safe, ranging from initial tests beforehand, to masks and frequent self-tests.
On Sunday, arrival day, our participants came from all over, including Dresden, Göttingen, Heidelberg, Munich, Potsdam, and even from the USA; all made their way to Ringberg Castle. After the check-in, our Fellow Stefan Klumpp kicked off the symposium with some welcoming words and useful advice. With our great community, the beautiful atmosphere at the castle and a beautiful view over the Tegernsee, it was definitely a delightful start!
On Monday morning we started with presentations by students and Fellows on their latest research. These lectures were held each morning during the symposium and showed once again how exciting, varied and important it is to work in an interdisciplinary environment when trying to answer fundamental questions about life.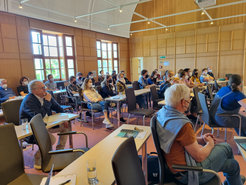 Our students presented work from their Master's and PhD projects, on topics ranging from collagen mechanics to responsive vesicles, the role of elastic deformation in worm reproduction to models of how bacteria develop antibiotic resistance. It was fascinating to see how our students' research is progressing.
Fellows also presented their latest research; we learned why it is important to consider time and kinetics in self-assembly processes, how magnetotactic bacteria can get stuck in dead ends, the link between slime molds and our veins, what one of our PhD students is doing snorkeling on the Great Barrier Reef and many other interesting and exciting findings related to the study of matter and life. These presentations also set the stage for engaging discussions among all participants that carried on throughout the day and often late into the evening. Groups of Fellows and students sat together discussing the day's talks and suggesting solutions to each other's challenges. "Could you do this experiment? Would it be possible to model...? What if you tried…?"
The afternoon sessions changed throughout the week. A special highlight this year was the celebration of our first Master cohort who started their studies at MtL back in 2019. These students are now entering the second, three-year, PhD phase, we could not be more proud!
We were honored to be joined in our celebrations by Professor Tolan, President of the University of Göttingen, who was able to join us virtually. Professor Eitel, Rector of the University of Heidelberg, and Professor Stratmann, President of the Max Planck Society joined our Speaker Prof. Spatz in congratulating the students in person. Fellows, students and representative of the Max Planck Society all attended the ceremony.
After speeches from our guests of honor we heard a different perspective as a "highly subjective recap" was delivered with style by our student representatives Michelle Kemper and Christoph Karfusehr. Their ups and downs during the program are depicted in the graph on the right.
After everyone received their certificate, accompanied by a round of well-deserved applause, the evening ended with a delicious Bavarian dinner. "An guad'n!" For some of us, this was our first introduction to typical Bavarian dishes like Leberkäse and Obazda. Before we started the dinner, our host, Mr Essl, gave a short, traditional speech in Bavarian dialect suiting the topic of the dinner. Not even the German speakers among us are sure we understood every single word.
On Tuesday afternoon, our students and Fellows got together to "shape the future of Matter to Life". This session was designed to foster discussions between students and Fellows and give the coordination team feedback about what the participants would like to see in the future. We will use this to improve the school and in particular student-Fellow interactions further.
After these discussions, everyone could join a tour through the castle discovering its art works, varying architectural styles and history. We were surprised to learn that a single artist designed and crafted everything at Ringberg.
Wednesday afternoon, MtL Fellows Klaus Tanner and Erwin Frey, together with Gösta Gantner hosted a seminar and discussion on ethics in the context of Matter to Life. The session underlined that ethics is an essential aspect of science which should not be underestimated or ignored and which should be considered at all stages of scientific enquiries.
The surroundings at Tegernsee offer many fun activities!
On Thursday, we went on a boat trip around the whole lake. We enjoyed the warm weather and the great view while learning some facts about the lake and its surrounding villages, like that a walk around the lake would be the length of a half marathon or that pink cherry ice cream can be easily mistaken for macadamia ice cream.
On Friday afternoon, we split in to groups and went to explore the peaks and forests around Tegernsee. Plenty of mountains with summit books at the summit crosses were waiting for us to leave an everlasting memory of great adventure and astonishing views.
After an intense and fruitful week of science and discussion, we concluded the Ringberg Symposium 2022 and are already excited for next year's edition.