MtL Spring Days 2023
Science and Sustainability in Matter to Life
Our MtL Spring Days 2023 were two days of science, thought-provoking lectures and discussions around the topics of "Science in Matter to Life" and "Sustainability in Matter to Life" - this time in a multi-hub event format at the University of Göttingen and at the Heidelberg Institute for Theoretical Studies (HITS).
First Day: Science in Matter to Life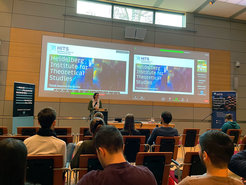 Day 1 of our Spring Days was dedicated to Science in Matter to Life, to which Frauke Gräter from HITS warmly welcomed everyone in Göttingen, Heidelberg and beyond!
We enjoyed plenty of fantastic lectures from across the Matter to Life network: We learned about Enzyme nanoreactors which could be used for anti-cancer therapy in the future, why we can use equilibrium physics in a non-equilibrium cell, or also what we can understand about the change in membrane topology using coarse-grained models.
During the "Get to know my lab" sessions, students shared insights into the labs they worked in - for their lab rotations, Master's theses or PhD. Especially for our first-year students, this was a great opportunity to interact with their peers and learn from their scientific and personal experiences in the lab. And, it was also a chance to gain some inspiration for their own future lab-decisions.

How can we visualize scientific data to communicate our findings? Nico Scherf from MPI for Cognitive and Neuroscience in Leipzig knows the answer and took us on a fascinating journey through the power of neural data analysis which included remarkable visualizations within a keynote lecture.
Second Day: Sustainability in Matter to Life
"How should and can Matter to life research contribute and respond to climate catastrophe and mass extinction? What measures are needed in order to do sustainable science in regard of research, behavior and our mindset?" These were the lead questions of day two of our Spring days moderated by MtL coordinator Jan Heidelberger and MtL Ethics teacher Gösta Gantner.
It was impressive to listen to MtL student Lena Strieker share her personal experience researching climate change in the Arctic and highlight the alarming impacts visible in the region. In contrast, MtL Fellow Eberhard Bodenschatz gave a passionate talk about "Solar(geo)engineering" and put the topic in a political context: "Every country can influence what happens up there, so the question has to be asked who owns the clouds - hopefully the answer is: nobody!"
We were also very happy to welcome guests from the academic sustainability management! Michael Wibral (University of Göttingen), Hollyn Hartlep (German Cancer Research Center - DKFZ) and Narasimha Sushil (Heidelberg University) presented their ideas and actions on the way to an emission-free institution. However, they also discussed the hurdles that need to be overcome - a big challenge that lies ahead of us all. Take home message: Be present where decisions are made and tell your story!
Our students showed a keen awareness of their responsibility towards sustainability, which was reflected in their active engagement with the topic:
Within group work throughout the day, they developed actionable sustainability strategies in four key areas: science/research, education, institutional settings, and beyond. The lively discussions during the presentation of the results did not stop and the students expressed the urgent wish to get more involved in this topic within the MPS MtL.

We will take this to heart and continue these discussions in the near future, in other formats as well!
Many thanks to all speakers and participants, especially also to the HITS and the University of Göttingen for hosting our event!
We look forward to seeing you again - all in one place this time - at the MtL Fall Days in Munich on September 21 and 22!